Establishment Compliance Management Service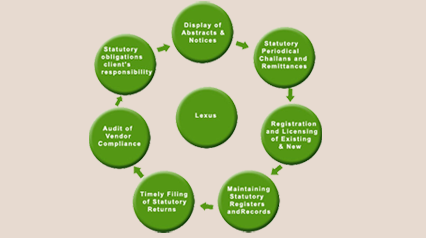 Lexus Consultant offers Enterprise Compliance Management Service with the expertise in Labour Laws for a new company and existing Company. Lexus offer a single window compliance service across India. Hence Client can improve Focus on Core Business. These services are delivered through our extensive network of offices and associates who specialize in these areas. We are located in Delhi and have network of associates in about 25 locations across India. If you are looking any Consultant or Agency to get Fire NOC License so you are at right place, we one of the most trusted and genuine fire noc consultant, we are here to helping you and resolve your all types of problems to and helping you to get fire noc license in minimum days.

Lexus Services Highlights | The various activities covered under these tiers include:

⇒ Registration and Licensing of existing and new branches under Labour Laws.
⇒ Renewals of Registrations.
⇒ Periodic compliances under Shops and Establishments Act across India.
⇒ Monthly Compliances under the Professional Tax.
⇒ Obtaining of Trade Licenses under the relevant Act/ Rules.
⇒ Filing of Annual Returns and Reports timely under relevant Act.
⇒ Maintaining of all Statutory Registers, Records under relevant Laws.
⇒ Calculation of Periodical Liability & Preparation of Challans accordingly.
⇒ Handling visits and inspections by inspectors under various Labour laws.

Handling Labour Statutory Compliances for the following Acts-

⇒ Payment of Wages Act
⇒ Minimum Wages Act
⇒ Payment of Gratuity Act
⇒ Payment of Bonus Act
⇒ Employees Provident Fund Act
⇒ Employees State Insurance Act
⇒ Shop and Establishment Act
⇒ Maternity Benefit Act
⇒ Professional Tax Act
⇒ Labour Welfare Fund Act etc.

The process will also involve Processing of Data and to offer Client-focused Labour Consultancy to awaken the employers in time and Quick actions to ensure complete Compliance.